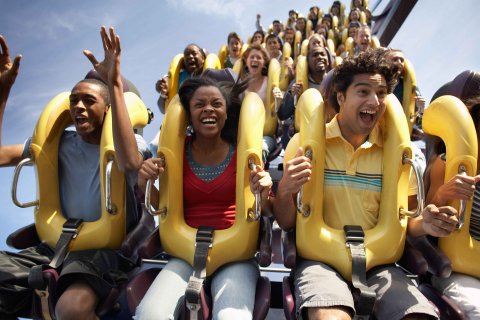 Did you see that Face ?!?!
Have you ever looked at riders faces while you are riding your favorite thrill ride or go-kart? More than likely the answer is No. May I ask why Not?  – My thought is for those few moments you lose focus on the cares of your life.
You are so in the moment – the last thing you want to do is look at someone you don't know.
But you could be missing out on the chance to see your fellow man/woman at a pure unfiltered happy moment. From time to time we can all lose sight of the "fun things" in life. Even the happiest of people can get weighted down by life.
So, to be able to witness Pure, Simple, abounding-Joy on a stranger's face it's like they are sharing their experience with anyone quick enough to notice. It could be considered a gift.
It is one of the most exciting things you can witness. If you could stop and look at peoples faces as they drop unexpectedly, whip around a corner or slide a go kart into a turn. That look is forever imprinted in your mind.
This is why I enjoy stopping at the photo huts some parks have, they snap a picture of you at the spot of the ride that is unexpected. The reason this is so clear in my mind is recently I opened a box and found a picture of my family coming down a loop at a park we had visited. I instantly smiled recalling the fun I had on the ride and looking at the expressions of all the faces, ours and of strangers that happen to be in our picture.
Seriously think about the last experience you had on a ride…whipping side to side…the wind, the speed. Only two words can truly describe it – Pure Joy!
This is the reason Parks, Fun Centers, and Carnivals are dear to our hearts today. Someone remembered that moment, and shared it with the World!